Pandanet-AGA City League
The City League is an AGA tournament where teams from city's play in a league system on the Pandanet-IGS server in the AGA room. The teams consist of up to five players, out of which three are selected to play in each round.
See current rules for more information at this time.
19 Jan 15 02:39:51
Pandanet City League this Sunday!
This Sunday is the second round of the Pandanet-AGA City League. Watch heavyweights from the A League including professionals like Ximeng Yu and AGA's newest Ryan Li. Don't discount our B and C Leagues. They will be duking it out with the other teams. Check the schedule at the top for your local team.
02 Dec 14 05:35:06
AGA City League Kicks off to a good start
Most of the games for the first round have been played already and they were spectacular. With many of the strong AGA and CGA players playing we have seen some exciting games.
Results:
A League:
Boston def Canwa Vancouver 1 (2-1), Greater Washington def San Francisco 1 (2-1), Los Angeles def Seattle 1 (3-0)
B League:
Bay Area def Washington DC 2 (2-1), Princeton def Canwa Vancouver 2 (2-1)
Still ongoing: NC Raleigh vs Katy TX 1 (1-1), last game to be played Dec 18 9:30ET
C League:
DC Team 3 def Boston 2 (3-0), SF Bay Area/Berkley def Atlanta 2 (2-1), New Orleans def Atlanta 1 (2-1)
06 Nov 14 15:13:38
New year of the City League starts on November 23rd
The new season of the Pandanet-AGA City League starts on Sunday November 23rd. Check our schedule to see the matchups for this round. Make sure to logon and root for your local team!
10 Aug 14 22:30:51
Canwa Vancouver 1 Edges Seattle 1 to Win 2014 Pandanet-AGA City League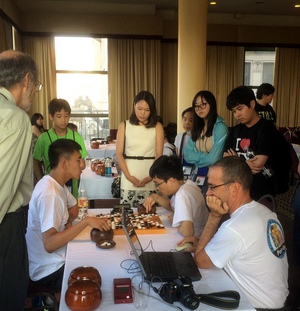 The Canwa Vancouver 1 team defeated Seattle 1 at the Pandanet-AGA City League finals on Saturday afternoon at the US Go Congress. As Congress attendees registered and caught up with old friends, the Vancouver and Seattle teams faced off in the top-board playing room looking out onto the nearby Empire State Building in midtown Manhattan. Bill Lin 7d of Vancouver defeated Ximeng (Simon) Yu 1p of Seattle on Board 1 (photo), while on Board 2, Ho Son 7d from Seattle evened the score by defeating Juyong Koh 7d of Vancouver. On Board 3, Ryan Li 7d bested Seattle's Momoko Tsutsui 6d to win the event for Vancouver. "Congratulations to Canwa Vancouver 1 for their hard-fought victory in the finals and for an impressive performance throughout the year," said Tournament Director Steve Colburn. All three games were broadcast live on Pandanet-IGS and have been posted on the City League website.
- photo by Steve Colburn
30 Jun 14 04:43:49
Pandanet-AGA City League Finals
The final round is to be played at the US Go Congress (www.gocongress.org) in New York City. The round will be played the first Saturday August 9th at 3PM. Games will be played in Penn Top, the same room that the top boards will be played. Watch for the LIVE simulcast in the AGA City League room on Pandanet-IGS.
Board 1 – Bill Lin vs Ximeng Yu
Board 2 – Ho Son vs Juyong Koh
Board 3 – Ryan Li vsMomoko Tsutsui