Welcome to Pandanet!
Welcome to the Pandanet Internet Go Server, a great place for playing, watching, studying, and enjoying the game of Go on the internet. At any time, day or night, you can find hundreds of other players from all over the world and of all playing levels, from beginners to professionals. Whatever your ability, you can find opponents of similar skill to play with.
Championship matches for top professional events, including the Meijin, Honinbo, Kisei, Judan and Tengen titles, and the Professional Pair Go Championship are broadcasted live, along with great international tournaments like the Pandanet Go European Team Championship, all for free.
Games schedule on Pandanet
10 Jul 17 21:50:54
IGS Server Down for Maintenance on 13th July
On Thursday, 13 July, the IGS Server has to be offline for maintenance work starting on 5pm UTC. It should be back up latest at 11pm UTC, hopefully earlier.
We are sorry for your inconveniences.
15 Jun 11 22:35:43
Kansai Kiin live broadcasts
Pandanet is broadcasting weekly matches from Kansai Kiin.
Wednesday July 12: The 43rd Meijin title, Preliminary round A, Semifinal, Imamura Toshiya 9p vs. Takashima Takeshi 4p
Wednesday July 12: The 43rd Meijin title, Preliminary round A, Kurahashi Masayuki 9p vs. Imai Kazuhiro 7p
02 Jun 17 02:16:18

Tournament Outline
Organizer: The 22nd Pandanet Cup Internet World Amateur Go Tournament
Organiser: Pandanet Inc.
Sponsorship: The International Go Federation
Special cooperation: World Pair Go Association
24 Feb 17 12:43:01
Introducing the Pandanet Life & Death App
We are proud to announce the new Life & Death app by Pandanet: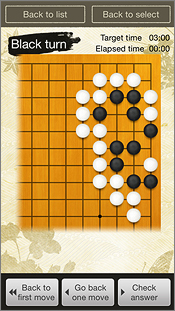 You can use it to practise a nice collection of Life & Death problems. There are always new collections which you can purchase using the internal Panda Coins currency. The app also features Panda Sensei, an AI which can solve any custom Life & Death situation for you better than top pros! The position just has to be contained to a closed region.
Please try it out for sourself!
13 Jun 17 04:26:09
The 38th WAGC report by Cornel Burzo
The 2017 edition of the WAGC was held in Sheraton Hotel in the city of Guiyang in southern China from June 4th till June 7th and it had 50 countries registered but only 48 competing for the World Go Champion title as Hungary and Madagascar didn't make it to the event.