Pandanet Go Latin American Team Championship
The Pandanet Go Latin American Team Championship is a project that borns from the initiative of Latin American players and officials to have an internet tournament that brings together the top players of the region with the support of Pandanet.
The second season of this championship is fruit of the effort and success we had in the first season and this time the final round will take place in Antigua Guatemala, Guatemala during the 2nd Latin American Go Congress on october. Keep updated for more news.
10 Aug 19 20:34:12
Final showdown on Latin American Pandanet League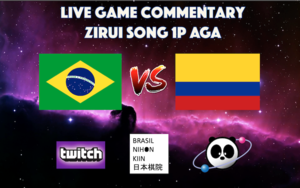 After 10 rounds the league stage of the 3rd Pandanet Go Latin American Team Championship comes to its final round with a triple tie at the top of the table. On this Pandanet event, the top two teams at the end of the league earn a spot to play a face to face final match during the 3rd Latin American Go Congress in Sao Paolo, Brazil.
So far Brazil, Colombia and Mexico have all 8 points, nonetheless on this final round Brazil will be facing Colombia which most likely imply that only one of them will earn a seat for the final match.
Considering the importance of this final showdown, the Brasil Nihon Kiin will be hosting Zirui Song 1p from the American Go Association for a live game commentary on the Brazil vs Colombia second board match. This match will be played between Brasil's Feng Wang 5d and Colombia's Juan David Ramírez 4d. Follow the broadcast on Brazil Nihon Kiin twitch channel on Sunday August 11th at 19:30 hrs GMT-6.
You may also follow all the games of this round directly on the Pandanet client where another very interesting match is taking place: Argentina vs Chile, where both teams have lined up their best players including Argentina's Fernando Aguilar.
As a conclusion we will have a spectacular closing for the league stage of the Pandanet Go Latin American Team Championship so don't miss it!
30 Jun 19 16:44:14
Triple tie and three rounds to go in Latin American Team Championship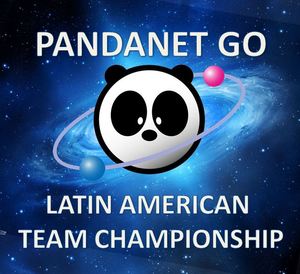 After 8 rounds out of 11, the Latin American League has 3 countries tied with 6 wins. Brazil leads with 19 board points next Colombia with 18 and last Mexico with 16. Three rounds are still to go and tension is greater than ever. The outcome is still to be decided where top two teams will get a seat in the final match during the 3rd Latin American Go Congress in Brazil on mid october.
Follow next round games this Sunday June 30th at 19 hrs UTC-6 on the LatAm room.
28 Apr 19 18:19:19
Pandanet Latin American League comes halfway through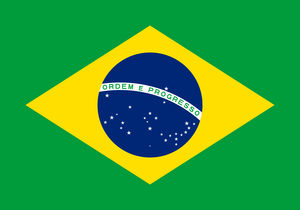 This Sunday April 28th the 6th round of the Pandanet Go Latin American Team Championship will take place.
So far this is the most fought LA League ever, no team is undefeated, two teams have 4 victories: Brazil and Mexico, four teams have 3 victories: Colombia, Chile, Argentina and Uruguay and the rest of the teams have 2 victories, except for Dominican Republic with no victories.
All teams are fighting for one of the two spots at the final match which will take place during the 3rd Latin American Go Congress on mid october in Sao Paolo, Brazil. Transfer expenses are covered by Pandanet so we expect strong fighting to come.
Watch the games at the Latin American Team Champ Room in Pandanet at 19 hrs UTC-6.
20 Jan 19 06:14:04
Latin America to launch 3rd Pandanet League with increased roster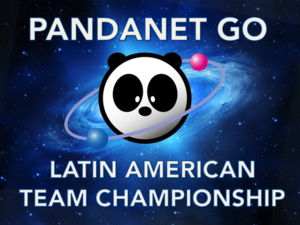 Everything is ready for the start of the 3rd Pandanet Go Latin American Team Championship. This event is organized by the Ibero American Go Federation and sponsored by Pandanet. On its 3rd edition it will gather for the first time twelve countries from North, Central and South America along with one country from the Caribbean Sea. The two new teams joining the league are Uruguay and Dominican Republic.
The eleven round league will start on January 20th and finish on August 11th, 2019. On each round 3 players from each team are chosen to represent the country out of a 8 players total. Games take place on Pandanet's Latin American Team Champ Room at 19 hours UTC-6.
After the 11 online rounds the top 2 teams will be invited with transfer expenses sponsored by Pandanet to play an "over the board" final match during the 3rd Latin American Go Congress, which is planned to take place in Sao Paolo, Brasil during mid October, 2019.
On the last two seasons Mexico has come out as the indisputable champion but this season strong competition is expected. For example, Brazil has recruited Amir Fragman an EGF 5d, half Israeli, half Brazilian player, who has been 4 times in a row Israeli Champion since 2015. Besides him Wang Seng Feng a taiwanese born, former top Latin American Go player has also joined the Brazilian team.
This event reunites the top players of the Latin American region such as Fernando Aguilar from Argentina and Abraham Florencia of Mexico, whom actually played and early 1st round match showing us a little of what is to come.
Check Argentinian's Luciano Zinni video broadcast of this game below or check the kifu directly.
Keep yourself updated about this great event directly here on the website.
22 Oct 18 01:34:45
Mexico defends the title in Antigua Guatemala to become 2nd Pandanet Go Latin American Team Champion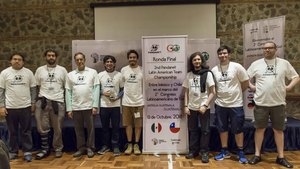 Saturday October 13th 2018.
The final match of the 2nd PGLATC began at 17:00 hrs UTC-6 in the rear of the playing area in the 2nd Latin American Go Congress hall.
Broadcast in Pandanet of the 3 boards was made under the accounts of Raku, A1 and srbanana.
On the 1st board a premature end brought Mexico their 1st victory with Abraham Florencia seizing a large group which Sebastian Montiel tried to save with a ko only that no ko threats were available.
On the 2nd board Emil García managed to claim the 2nd win for Mexico after Hernan Bustos from Chile allowed a key connection in the center which secured Emil's groups and which later on ended killing a large group of Hernan.
On the 3rd board Sebastian Rios from Mexico managed to build a huge mayo against Chile's Alexander Larrain giving so the title to Mexico with a perfect 3-0 score.
It was a great event where friendship was the real winner, building bonds within this two teams which have never met face to face before.
Thanks to Pandanet for all its support to Latin American Go we really appreciate it!!
Check the full final match album here.
Check the full album of the 2nd Latin American Go Congress here.