Pandanet Go Latin American Team Championship
The Pandanet Go Latin American Team Championship is run by the Ibero American Go Federation and as of 2020 it gathers 14 countries from Latin America and the Caribbean.
Teams are divided into A and B Leagues. Each season two countries will descend from A League into B League and two countries will ascend from B League into A League.
Final match between top two teams in League A is to be played within Latin American Go Congress each year.
23 Jan 21 02:08:49
5th Latin American Pandanet League starts on January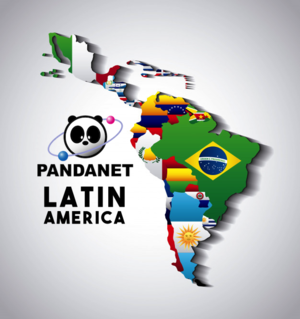 As of the 24th of January, fourteen Latin American countries divided in two leagues will be fighting to reach the top in the 5th Pandanet Go Latin American Team Championship.
Novelty in this season is Cuba playing in the League A and standing as a strong competitor for the Championship as their top 3 boards rank as 5 dan and the team has an average level of 3 dan.
Meantime in the League B, we also find a strengthened Uruguay with the recent incorporation of Martin Benenati 5d, which projects a very fought scenario with Chile and Venezuela also trying to fight their way back to the League A.
Showdown starts as soon as the first round with heavy matches like Argentina vs Mexico, who last season finished second and fourth respectively and Brazil vs Peru who finished first and third respectively.
Follow the 1st round of the Championship on Sunday 24th at 19 hrs GMT-6 on the LatinAmericanTeam Champ room in Pandanet.
23 Nov 20 11:47:35
Brazil wins the 4th Pandanet Go Latin American Team Championship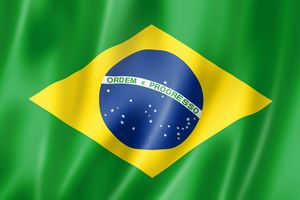 On a hard fought match, Brazil overcame Argentina to become the champion of the 4th PGLATC.
Of the three games played, the first one to finish was third board match between Brazil's Helcio Alexander and Argentina's Luciano Salerno. While Salerno kept the lead throughout most of the game, a latter invasion proved too deep which gave the victory to Alexander.
Later on, the second board finished with a large point victory for Brazil's Wang Sen Feng over Argentina's Santiago Tabares.
At last, the first board finished with a victory of Argentina's Fernando Aguilar over Israelian-Brazilian Amir Fragman, in a game with plenty of fighting and group exchanging.
So the result is a 2-1 victory for Brazil. Congratulations!
Kifus of the games:board 1, board 2, board 3.
Check out Mateusz Surma 2p live commentary of this match on this link.
21 Nov 20 15:12:52
Brazil and Argentina to play in the final match of the 4th Pandanet Latin American Team Championship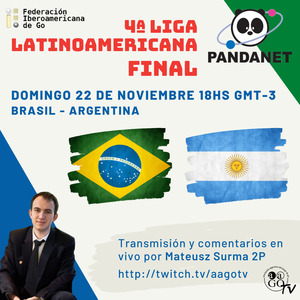 After a long wait, finally Brazil and Argentina will be facing each other on the final match of the 4th Pandanet Latin American Team Championship.
Brazil and Argentina finished 1st and 2nd respectively at the end of the 2020 League, which grants them the right to play the final match for the championship. Originally this match was to be played in Buenos Aires, during the 4th Latin American Go Congress but due the COVID-19 pandemic, the match will be played online.
The match will take place on Sunday, November 22th at 18 hrs GMT -3 in Latin American Room in Pandanet and it will also be live commented by Mateusz Surma 2p from EGF through https://www.twitch.tv/aagotv
Players playing the final are:
Brazil:
Amir Fragman (Wade)
Feng Wang (wsfbr)
Helcio Alexandre Pacheco (HelcioAlex)
Argentina:
Fernando Aguilar (Fernando)
Santiago Tabares (Petete)
Luciano Salerno (salerno)
16 Feb 20 22:57:09
4th Pandanet Latin American Go League launches with an increased roaster of 14 countries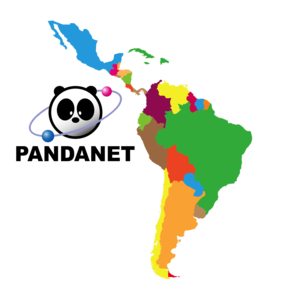 For 2020 two new teams are joining the Pandanet Go Latin American Team Championship which are Panama and Cuba. This gives a total of 14 countries that are playing in the 4th season of this event, that recently started in January.
Another new feature this season has is that the 14 teams are divided in two leagues, on which top 2 teams on League B are ascending and bottom two teams in League A are descending to the other League respectively at the end of the season.
The League is played to 8 rounds on which every team is playing two rounds with teams of the other league. At the end of the season top tow teams on League A get the chance to play a final match during the 4th Latin American Go Congress Buenos Aires Argentina on October.
2nd Round is taking place on February 16th UTC-6 on the Latin American Team Champ Room in Pandanet.
09 Nov 19 05:42:28
Mexico becomes Pandanet Go Latin American Team Champion for 3rd time in a row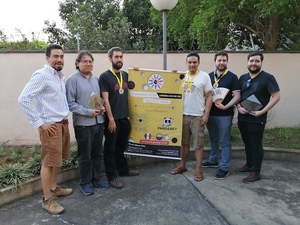 On October 12th during the 3rd Latin American Go Congress in Sao Paolo, Brazil the final match of the 3rd PGLATC took place between Colombia and Mexico on 3 boards.
The first board to finish was the 1st one between Felipe Burgos from Colombia and Abraham Florencia from Mexico on which Abraham managed to capture a large group on an early stage of the game.
On the 2nd board Mexico's Emil Garcia played Colombia's Brandal Henao, on which after a sudden invasion by Brandal a rather large group ended up being seized, giving a fair advantage to the Mexican player, which he secured into the end of the game.
On the 3rd board Fernando Manrique from Colombia faced Sebastian Rios from Mexico in what turned out to be a game with some interesting exchanges that in the end favored Sebastian, giving him the victory.
In this way Mexico won the match 3-0, claiming the title for the third time in a row. All three games were broadcasted in Pandanet.
Now everything is getting ready for the 4th PGLATC in which most likely new countries will be joining the league. It's also worth mentioning that the 4th PGLATC final match will be played during 4th Latin American Go Congress in Buenos Aires, Argentina in 2020, so stay tuned for more updates!