Brazil and Peru to play final match of PGLATC 2023 in Punta Cana during 5th Latin American Go Congress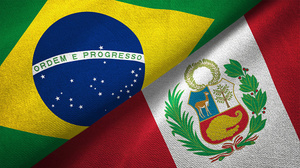 The 7th Pandanet Latin American Team Championship will be decided in the final match between Brazil and Peru, having both finished as top two teams of the A League after the Round Robin stage of this Championship.
The match on three boards will take place at the 5th Latin American Go Congress at Punta Cana, Dominican Republic.
Peru, which hadn't seen top places in previous editions, managed to win a seat in the final this year as to contest the Championship title to Brazil, who has won the last three championships in a row.
Led by Aaron Alvarado 4d who has beaten top players like Argentina's Fernando Aguilar 7d, Peru is in its best shape of all times.
Follow the match on Pandanet on Friday, October 13th at 15 hrs. local time.