Mexico defends the title in Antigua Guatemala to become 2nd Pandanet Go Latin American Team Champion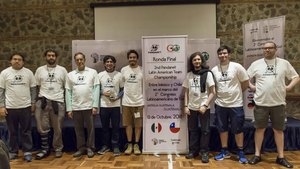 Saturday October 13th 2018.
The final match of the 2nd PGLATC began at 17:00 hrs UTC-6 in the rear of the playing area in the 2nd Latin American Go Congress hall.
Broadcast in Pandanet of the 3 boards was made under the accounts of Raku, A1 and srbanana.
On the 1st board a premature end brought Mexico their 1st victory with Abraham Florencia seizing a large group which Sebastian Montiel tried to save with a ko only that no ko threats were available.
On the 2nd board Emil García managed to claim the 2nd win for Mexico after Hernan Bustos from Chile allowed a key connection in the center which secured Emil's groups and which later on ended killing a large group of Hernan.
On the 3rd board Sebastian Rios from Mexico managed to build a huge mayo against Chile's Alexander Larrain giving so the title to Mexico with a perfect 3-0 score.
It was a great event where friendship was the real winner, building bonds within this two teams which have never met face to face before.
Thanks to Pandanet for all its support to Latin American Go we really appreciate it!!
Check the full final match album here.
Check the full album of the 2nd Latin American Go Congress here.