Mexico wins final match of 1st Pandanet Go Latin American Team Championship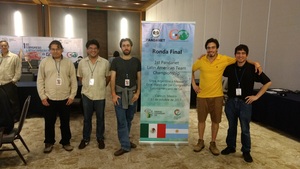 The final match of the 1st PGLATC was played on October 13th, 2017 within the 1st Latin American Go Congress held in Cancun, Mexico.
The teams playing were Argentina vs Mexico in a 3 board match. They won the chance to play an over the board final by finishing 2nd and 1st place respectively in a 10 Latin American country league played in Pandanet. For Argentina the players were: Fernando Aguilar, Santiago Tabares and Luciano Salerno. For Mexico the players were: Abraham Florencia, Emil Garcia and Sebastian Rios (on photo).
A clash of titans took place on the first board between Argentina's renowned Fernando Aguilar and Mexico's champion Abraham Florencia, the expertise of Aguilar prevailed giving Argentina the first victory. On the 3rd board Sebastian Rios managed to build a huge moyo on the center giving a win to Mexico which tied the score 1-1. Everything would be decided in the match between Santiago Tabares and Emil Garcia, where Garcia managed to overcome a major mid-game overplay and claim the match for Mexico.
In this way Mexico stands as the 1st PGLATC champion, congratulations!
Thanks for all the support Pandanet gave throughout the league and for the sponsorship for this championship, it was a truly amazing experience for everyone.
Check the live broadcast on youtube of the match here:
https://youtu.be/49l77IA7iZw
And the photo album of the match:
https://www.facebook.com/media/set/?set=a.1179138285520845.1073741829.554529634648383&type=1&l=ee119e5b06
See you next year!