Big Jubango - Lee Sedol 9p vs Gu Li 9p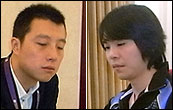 Two of the world's top Go players – Lee Sedol 9p (Korea) and Gu Li 9p (China) – will be playing a jubango throughout 2014.
Both Lee and Gu were born in 1983, and became pros in 1995.
Pandanet is broadcasting live all 10 games !


Live broadcast
Game 8 (Chongqing)
September 28 (Sun) 1:00am (

GMT

) / 10:00am local time
Lee Sedol 9p - Gu Li 9p
GoPanda2(Ver.2.3.0) or Panda-Tetsuki is required to watch the games.
GoPanda2 for PC - Download (free)
Panda-Tetsuki for iOS and android - Download (free)
You can watch the moves only on Panda-Tetsuki. If you want to enjoy the commentary by Myungwan Kim 9p, please download GoPanda2.
Outline of Big Jubango
Sponsor MLily will award the first player to win six games with 5 million

RMB

(approximately 820,000

USD

).
The other player will receive a consolation prize of 200,000

RMB

(approximately 33,000

USD

).
If the score is tied 5-5, the prize will be split without a tie-breaker.
The time allowance is hour hours, plus five minutes of thinking time, to be used in one-minute units. minutes.
Related articles of GoGame Guru
Results
Game 1: January 26, in Beijing – Lee Sedol B+R
Game 2: February 23, in Shanghai – Lee Sedol W+1.5
Game 3: March 30, in Chengdu, Sichuan – Gu Li W+R
Game 4: April 27, in Korea – Gu Li B+R
Game 5: May 25, in Shangri-La, Yunnan – Lee Sedol B+R
Game 6: July 27, in Liuan, Anhui – Lee Sedol W+R
Game 7: August 31, in Lhasa – Lee Sedol B+R
Game 8: September 28, in Chongqing – Lee Sedol W+2.5
Winner : Lee Sedol