Pandanet Go European Teams Championship
St.Petersburg Finals July 22-23, 2016
The 6th edition of the Pandanet Go European Teams Championship was held online on Pandanet Go Server from September 2015 till May 2016 where 34 national teams competed in 3 leagues.
Each team consist of max. 12 players out of which 4 players are selected to play in each round.
The final stage of this tournament was held in Azimut Hotel, St. Petersburg, Russia on july 22nd and 23rd , the same location as the 60th Polymetal EGC this year.
http://egc2016.ru/en/venue/address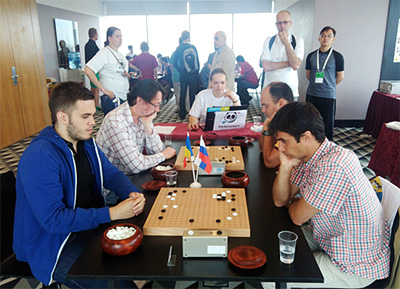 The top 4 teams of the A-league who played the finals this year were Russia, Ukraine, Romania and France who qualified after the 9 rounds played online in the preliminary stage of this event.
The time settings for the games played in the finals were same as in the preliminary rounds with 1hour main time and 10min/25 stones byo-yomi.
On the 1st round of this tournament played on july 22nd Russia defeated France 3-1 and Ukraine defeated Romania 4-0.
The results of the 2nd round played in the morning of july 23rd were Russia vs Romania 3-1 and France vs Ukraine 2-2.
In the 3rd round Ukraine won vs Russia 3-1 and France won vs Romania 3-1
All the games played in the European Teams Championship were held at the 18th floor of Azimut Hotel which offered a great panoramic view of St.Petersburg city .
The winners of this edition were Ukraine team , well done and see you again in the finals next season !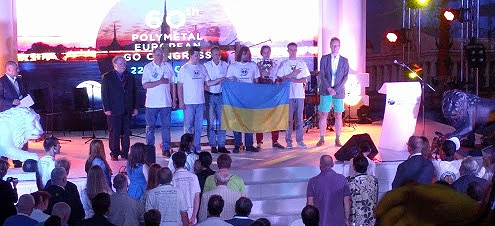 | | | | | | | | | |
| --- | --- | --- | --- | --- | --- | --- | --- | --- |
| PN | CY | PT | GW | GL | B1 | B2 | B3 | B4 |
| 1 | UA | 5 | 9 | 3 | 2 | 3 | 2 | 2 |
| 2 | RU | 4 | 7 | 5 | 3 | 1 | 1 | 2 |
| 3 | FR | 3 | 6 | 6 | 1 | 1 | 2 | 2 |
| 4 | RO | 0 | 2 | 10 | 0 | 1 | 1 | 0 |